Adam started his dulcimer career at the beautiful Benners Campground. Brett Ridgeway was to teach a workshop and

let everyone try a hand with the hammers. Adam's Grandfather let Adam try and saw his talent instantly. He decided to give up his class to Adam. Brett had dulcimers you could purchase, but none of us had that amount of money to purchase any. Adam left the peaceful mountains empty handed....about a week before Christmas his parents made a trip to Coshocton, Ohio to purchase two dulcimers from the fantastic Wildwood Music Store. They presented him with a Dusty Strings D35 model.....He soon outgrew the small size and yearned to have higher and lower ranges. His parents were unable to purchase another one so he collected his savings from birthday's, holiday's and working in the family deer processing business. He purchased the biggest dulcimer he could find.....the Dusty Strings D600.





Adam competed in the Mid-Eastern Regional Dulcimer competition in May 2005 and placed third, but was named champion of the open competition.





He has been busy performing for various festivals, banquets, ladies groups, farmers markets, open mics and coffee dens. He recently did a benefit for Hurricane Katrina victims.....




Adam enjoys playing and performing on his Hammered Dulcimer, his goal is to one day be the National Hammered Dulcimer Champion.



On May 21, 2007 Adam competed in the Mid-Eastern Regional Hammered Dulcimer Competition at the Historic Roscoe Village in Coshocton, ohio and was named the Mid Eastern Hammered Dulcimer Champion. He will be traveling to Winfield, Kansas in September to compete in the National competition.



On September 20, 2008 Adam competed in the National Hammered Dulcimer Competition in Winfield Kansas. He was named third in the nation and received a trophy, $50, a Cloud Nine 17/16/8 handcrafted hammered dulcimer made by Michael Allen of Ostrander, Ohio, valued at approx.$1,500 in a customed made case from Coon Hollow Canvas of Kila, Montana and two sets of hammers.

On Saturday September 19, 2009 Adam once again competed in the National Hammered Dulcimer competition in Winfield Kansas, and was named second in the nation and received a trophy, $75 and a Cloud Nine 17/ 16/8 handcrafted dulcimer made by Michael Allen of Ostrander, Ohio in a customed made case from Coon Hollow Canvas and two sets of hammers. Adam plans to return next year and maybe the third time will be a charm.































































































































































































































































































































































































































































































































































































































































































































































































































































































































































































































































































































































































































































































































































































































































































































































































































































































































































































































































































































































































































































































































































































































































































































































































































































































































































































































































































































































































































































































































































































































































































































































































































































































































































































































































































































































































































































































































































































































































































































































































































































































































































































































































































































































































































































































































































































































































































































































































































































































































































































































































































































































































































































































































































































































































































































































































































































































































































































































































































































































































































































































































































































































































































































































































































































































































































































































































































































































































































































































































































































































































































































































































































































































































































































































































































































































































































































































































































































































































































































































































































































































































































































































































































































































































































































































































































































































































































































































































































































































































































































































































































































































































































































































































































































































































































































































































































































































































































































































































































































































































































































































































































































































































































































































































































































































































































































































































































































































































































































































































































































































































































































































































































































































































































































































































































































































































































































































































































































































































































































































































Adam is a Hammered Dulcimer player, teacher and performer from Daisytown, Pennsylvania. He is now a senior at the California Area High School. He is in the National Honor Society, in the LEO club, SADD, the model UN, on the envirothon team, on the Tennis team where he has been named MVP for the last two seasons. He also plays the trumpet in the high school marching band, is in the choir, and has been cast in 8 of the high schools musical in a lead or supporting role since he was in second grade. Adam enjoys all types of music and everything about music and plans to further his education upon gradutaion in June 2009 in the music field.


Adam is a freshman at the California University of Pennsylvania duel majoring in Biology / Theater and minoring in music. He is a member of the university marching band,the Cal choir, Vulcanize a all mens a Capella group; the choir will be performing in Washington D.C.this April. He is all on the democratic team and bowling team. He recently performed in the Cal U production of murder in the knife room.



Thanks for taking a look at Adam's site. Be sure to give any suggestions. I'll be updating frequently, so please check back often.
Members of the Sutch Sounds Band
Adam Sutch on The Hammered Dulcimer

Ron Howes on Lead Guitar
Darlene Howes on Rhythm Guitar & Rhythm inst.
Michelle Sutch on back up with both Dulcimers
Aaron Sutch on Marimbula & spoons
Austin Sutch on the Bodhran & limberjacks
Jim Sutch-- Sound Technician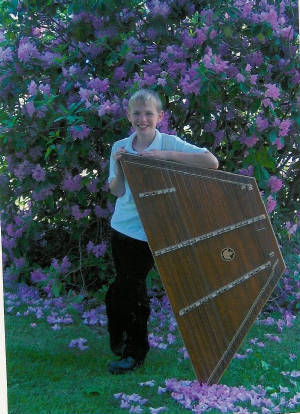 Adam with his D600 Dusty Strings Dulcimer
Picture in front of Mt. Laurel at age 14.